Tencent Shares May Rise More in the US, Even After the Strong Spring of 2019
Tencent Holdings (OTC: TCEHY) went through a lot of difficulties last year. Its lucrative gaming business was hit by China's government controls, the macro environment worsened and its advertising area was hampered by declining advertiser spending.
The company, which is known as Facebook (NASDAQ: FB) of China, recorded much of that negativity in its 4Q balance sheet, released on March 21. Net income for the quarter ended December fell 32% compared to the same period last year. This was the worst result since its initial stock offering in 2004, reflecting the impact of government action to deny approval of new games in 2018 due to the levels of myopia among children and adolescents in China, the largest gaming market of the world.
But now there are signs that the worst may already have passed on to Tencent and its investors. First, China has re-approved new games, an initiative that will improve the company's bottom line, which will monetize its best-selling titles, such as "PlayerUnknown's Battlegrounds" and "Fortnite." games is responsible for more than 40% of the company's sales and for most of its profit.
Tencent also trusts new games to attract and retain users in its WeChat messaging service, through which it sells the items offered in its games and ads to more than a billion potential customers.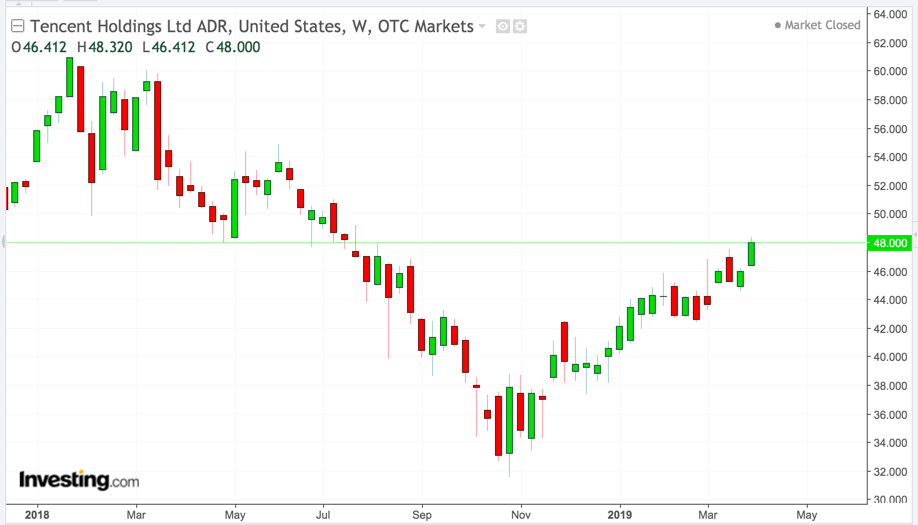 Improvement of the macro environment
Encouraged by these positive events, investors are betting on the company's actions this year. Tencent shares traded at $ 48 at New York's close yesterday, jumped 22 percent this year, after losing about a quarter of their value in 2018.
Tencent Weekly ChartTencent Weekly Chart
The recovery of Tencent shares also coincides with some positive macroeconomic events. The US and China are close to sealing a possible deal to end the trade war between the world's two largest economies. There are signs that the Chinese economy will respond positively to the government's stimulus package, which aims to boost growth through tax cuts and increased lending to small private companies.
Despite its disappointing quarterly balance sheet, the company's underlying strength is solid and its management is on track to diversify its revenue stream beyond gaming. The operator of the popular WeChat application, with more than 1 billion active monthly users, has a dynamic and unmatched online ecosystem. With video blogging, instant messaging and a one-stop payment application, Tencent offers a compelling opportunity for investors who want to have some exposure to China's internet industry.
According to a recent note from Nomura Securities, Tencent's business with WeChat has the potential to generate more advertising revenue for the company. "We believe WeChat's advertising business is sub-monetized," Nomura analysts Jialong Shi, Carson Lo and Michael Tam said in a statement quoted by Reuters.
"The increasing popularity of miniprograms should allow WeChat to receive more advertising budgets from service providers, such as online travel agencies, e-commerce and educational advertisers, as those service providers migrate part of their business to the WeChat through these miniprograms, "they wrote. Miniprograms are applications within the WeChat that allow consumers to access services such as bank transactions and hiring private drivers.
Tencent's investments to seize opportunities with the emergence of what company founder Pony Ma calls "industrial internet" may further boost the company's future growth. As part of its diversification strategy in September, the company established a division of intelligent industries to focus on artificial intelligence, cloud services, big data and security.