ESL LA League de PUBG já tem data para início de nova temporada
Após ter data definida para CS:GO, agora foi a vez de
PUBG receber a confirmação
de quando será o começo da nova temporada da ESL LA League. A competição continental terá início no próximo dia 13 de junho.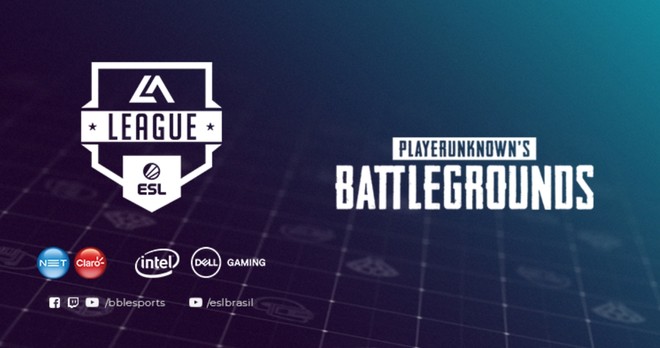 O torneio distribuirá uma premiação total de
R$ 20 mil e contará com 16 times.
O vencedor garantirá vaga para o próximo major deste ano, a ser realizado na Suécia. Confira as equipes confirmadas:
Se Tudo Der Certo!

Laranja Mecânica

PUGb

Brazilian Crusaders e-Sport

Furia eSports

Black Dragons e-Sports

Hadouken Gaming

Espada do Rei

Bitloft

Unknowns

BOSS Esports

FK Team

Fusion Esports

Piantaos

rune

CAPS
A ESL LA League de PUBG integra o circuito do LATAM PUBG Pro Series (LPPS) e tem parceria da PUBG Corporation. Além disso, a competição possui os patrocínios de NET, Claro, Intel e Dell Gaming.
A transmissão dos jogos acontecerá nos canais oficiais da ESL Brasil, no Facebook, YouTube e redes sociais da BBL. As partidas serão exibidas a partir de 19h.
Vale lembrar que a Brasil Premier League (BPL) de PUBG concederá três vagas ao torneio continental para as equipes com melhor classificação no ranking.
ESL LA League of PUBG already has date for beginning of new season
After the date set for CS: GO, now it's PUBG's turn to receive the confirmation of when will be the beginning of the new season of the ESL LA League. The continental competition will begin on June 13. The tournament will distribute a total prize pool of R $ 20,000 and will have 16 teams. The winner will secure a spot for the next major this year to be held in Sweden. Check the confirmed teams: If All Is Right! Mechanical Orange PUGb Brazilian Crusaders e-Sport Fury eSports Black Dragons e-Sports Hadouken Gaming King's Sword Bitloft Unknowns BOSS Esports FK Team Fusion Esports Piantaos rune CAPS The ESL LA League of PUBG is part of the LATAM PUBG Pro Series (LPPS) circuit and is partnered with PUBG Corporation. In addition, the competition is sponsored by NET, Claro, Intel and Dell Gaming. The games will be broadcast on the official channels of ESL Brasil, Facebook, YouTube and BBL social networks. Matches will be displayed from 7pm. It is worth remembering that the Brazilian Premier League (BPL) of PUBG will award three places to the continental tournament for the teams with the best ranking in the ranking.